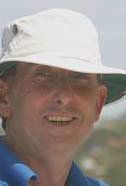 Graham's interest in yacht design was galvanised at school when "Intrepid" beat the Australian challenger "Dame Pattie" in the 1967 America's Cup.
Sailing wasn't a school sport and he didn't start sailing yachts until he was invited to sail on the 57ft yacht "Kyeema" in the early seventies. Hearing from the skipper about a friend of a friend building a large yacht to go world cruising, Graham knocked on the door of Dr Tony Fisher who's new yacht Joe Adams designed 73ft "Helsal" was nearing completion. Considering his inexperience with offshore racing Graham was part of the crew for the 1973 Sydney / Hobart Race when "Helsal" broke the elapsed time race record. After one year following "Helsal" sailing, Tony Fisher introduced the designer Joe Adams where started to work in 1974 and basically served a three year apprenticeship. He became a partner at Adams Yacht Design in 1977 - which continued until 1987.
Radford Yacht Design started in 1987. Since then Graham has been responsible for all the yacht designs and design drawings produced … from the hull shapes and construction details to the creation of the 3D computer models … and continues to operate a one man office. This may limit the output but sets the standard and the desired lifestyle.
One of the major project for Radford Yacht Design was the R1000 Series steel cruising yachts. The technology introduced to do these steel yachts is now reflected in the range of aluminium kit yachts which have been designed.
Late 2001 saw the start of the design of an aft cockpit 14m aluminium kit yacht. The yacht was being built for cruising but with the intention of competing in the 2003 Melbourne / Osaka double handed yacht race.
Launched in late 2002 "The Wizard" raced to Osaka in March/April 2003, finishing fourth overall and first in the cruising division.